Automatic enrolment - who needs to be enrolled
While every attempt will be made to ensure that information provided is accurate at the time of publication, it should be treated as guidance only and does not constitute legal or professional advice. Tax law and guidance changes frequently and readers are advised to consult the current relevant product for the most up-to-date information on this topic.
To see the latest information on this topic register for your free trial today.
Many employers have yet to reach the point when they have to make arrangements to enroll eligible jobholders in a workplace pension. Every employer has to engage with the automatic enrolment process by a set 'staging date'. The remaining staging dates for smaller and newer employers run up to February 2018
Not all employees have to be automatically enrolled – only 'eligible jobholders'. This flowchart helps employers decide which employees are in that category and what the employer's pension responsibilities are for the other categories of worker.
It shows the questions to be asked in respect of each worker in order to decide whether that worker either must be automatically enrolled in a qualifying pension scheme or has the option to be so enrolled on request.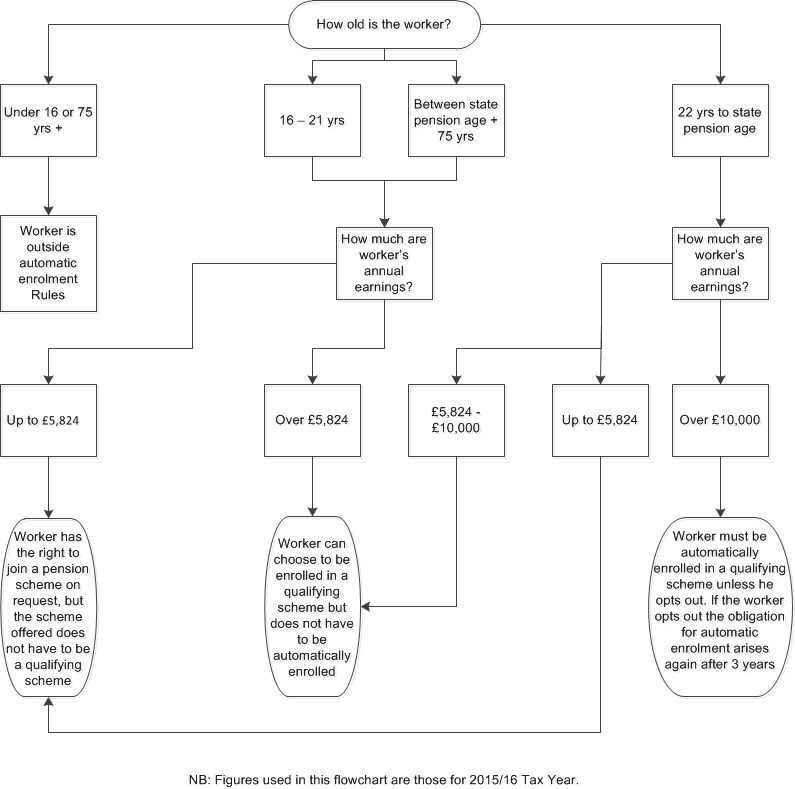 For more detailed guidance on Auto-Enrolment and how it might impact you and your clients, request a free one week trial to TolleyGuidance.
TolleyGuidance is an online service that provides critical, comprehensive and up-to-date practical guidance from tax experts so you can work more efficiently and provide advice with confidence. TolleyGuidance helps you to find solutions quickly, understand how to apply them and avoid undue risks.
Five reasons to choose Tolley for practical guidance
Written by tax experts, based on real-life experience
Guidance that's detailed, practical and reliable
Information that's robust, up-to-date and complete, and stands up in court
Acts as a simple refresher or a step-by-step guide
Modular format helps you to control your costs